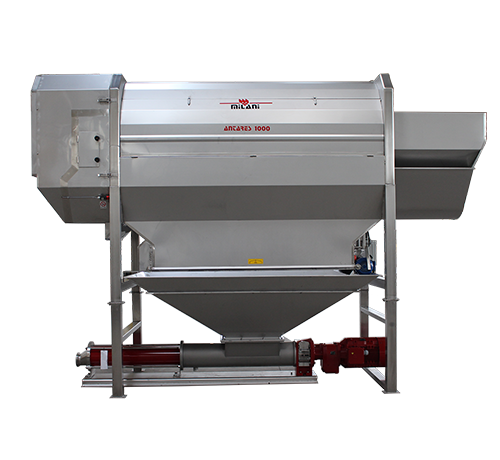 ANTARES
Stalk-stripping and crushing machine from 70 to 1000 ql/h
Documentation
Get a quote
Ideal to de-stalk-crush the grapes or just to crush them.
The ANTARES stalk-stripping and crushing machine was built considering the current requirements of wine producers for softer and more delicate stalk-stripping in order not to break the grapes and, especially, the stalk. Its structure is particularly compact and is easy to install even in tight spaces. It is fitted with an internal washing system and two large movable doors on the sides. This makes internal cleaning extremely easy and thorough. The simple but accurate design of the machine makes it almost maintenance free and ensures excellent performance.
TECHNICAL FEATURES
Rotary beating shaft featuring very low rotation speed, elastic pegs in plastic and quadruple-start in order to guarantee soft and thorough stalk-stripping;
Easily interchangeable perforated drum featuring special deep bores;
Pressing unit comprising 2 rubber rollers set at a variable distance under the drum, can be set for crushing and non-crushing;
Independent drive;
Totally made from AISI 304 stainless steel.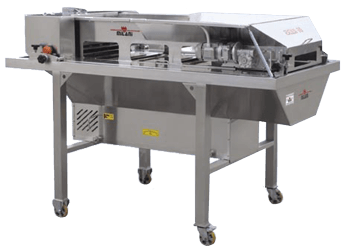 ESTASI
Orthodromic destalker to 40-50 ql/h
Documentation
Get a quote
The orthodromic Estasi destalker has been designed and built for destalking in which the grapes remain whole. Moreover, the soft, delicate action of the asynchronous movement of a conveyor belt and swaying grille prevents the grape stalks from breaking.
The machine was designed for insertion in a top quality processing line of hand-picked grapes and consists in a sorting level and conveyor belt. The grapes remain whole, thus the destalked grapes can be sorted.
As it has no beater shaft, the design concept of this machine is highly innovative, simple, and efficient and prevents the onset of problems linked to the beating action of the beating shaft and centrifugal force of rotation
TECHNICAL FEATURES
Conveyor belt equipped with special rubberised paddles set on the upper part of the machine which receives the grapes, and transports them to above the swaying grille on the lower part of the machine;
Swaying grille set on saddles which remove the grapes from the stalks by means of an alternating movement;
Crushing unit formed of two rubberised rollers (the distance between the two can be adjusted) set underneath the grille, enabling operation in either crushing or non-crushing mode;
Independent drive units with mechanical speed variators.