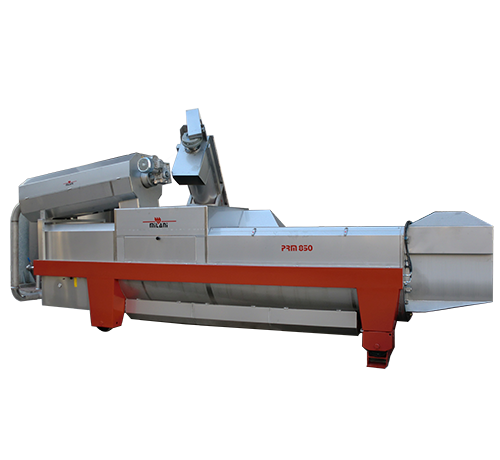 THE CONTINUOUS P.R.M. GRAPE PRESSES
Documentation
Get a quote
The continuous PRM 650 and 850 grape presses are designed for the most demanding tasks.
Of sturdy manufacture, they deliver quality pressing and high performance right to the end.
TECHNICAL FEATURES
Stainless steel draining feed chamber;
Stainless steel compression chamber with trapezoidal laths and external rim;
Very thick, alloy-steel pressure screw (stainless steel upon request);
Full-precision press cage-screw coupoling to markedly reduce lees taste valves in final phase;
Sturdy epicyclic reduction gear ensures high reliability and long life of working parts;
Outlet port with back-pressure cut off and oleodynamic control;
The steel bearing frame is in thick stainless sheet.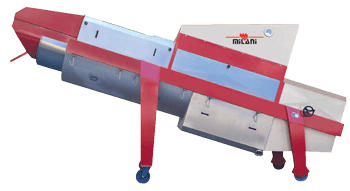 S.G.M. CONTINUOUS DRAIN SYSTEMS
Documentation
Get a quote
Reliable, sturdy and versatile, the SGM 650 and 850 continuous drain systems are the ideal design specific solution in separating 70-80% of the must flower from the crushed grapes.
TECHNICAL FEATURES
Stainless steel feed chamber with a large drain area for maximum static must flower separation;
Soft compression chamber with trapezoidal laths;
Stainless steel screw with a special, self cleaning peripheral scraper. Rotation: 2-6 rpm ;
Outlet port with front back-pressure cut off;
Upper casings and lower must storage vats in aisi 304 stainless steel;
Power unit included special epicyclic reduction gear with rpm variator;
Very easy internal cleaning and washing.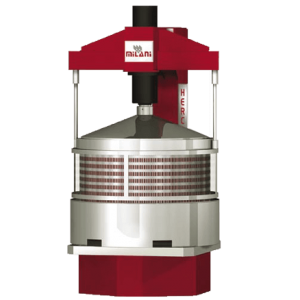 HERCULES – Vertical press with control panel
Documentation
Get a quote
mod. 10 ql – mod. 15 ql
Machine is very sturdy and easy to control, made with a supporting structure in high strength steel.
It is equipped with a large diameter hydraulic piston which enables a uniform pressure on the pressing plate ensuring a autofiltrazione of the liquid through the marc and while avoiding the formation of splashes to the outside.
The containment cage is constructed of stainless steel with slits, which prevent leakage of seeds and skins and is externally protected by a transparent movable cylinder accident prevention. To allow the extraction of the pressed marc, cage and protective cylinder are lifted simultaneously by two hydraulic pistons.
TECHNICAL FEATURES
The control panel is a made up of a PLC with 10 standard that optimize every stage of production;
Programmable pressure, pressing plate descent speed and stand-by time;
Programmable constant pressure up to a max of 60 Atm;
Possibility of enabling the "product breathing" stage at the end of each pressure step;
Pressure is applied through the descent of an AISI 304 steel plate;
The press supports a removable product holding basket for the loading and unloading operations;
This basket consists of a sturdy AISI 304 stainless steel cage featuring a cylinder made of vertical bars and a convex bottom that serves as a conveying container.