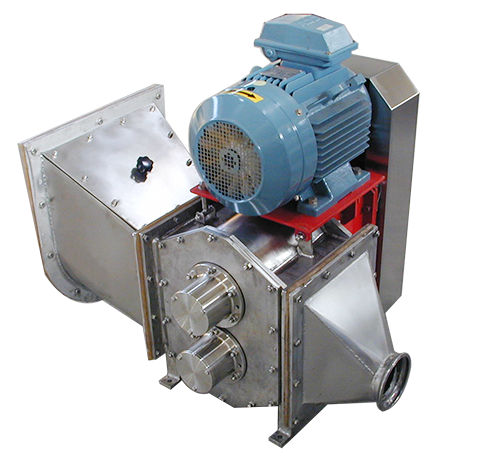 LOBE PUMP
Documentation
Get a quote
The two rubberized lobes move together to push the grapes along. The part of the pump in contact with the grapes is made of stainless steel and the lobes are easily replaceable. The pump can be attached directly to the conveyor's grape discharge outlet, or can be assembled on the crushers in order to transport the crushed grapes.
TECHNICAL FEATURES
Rotors made from food grade rubber assembled on slotted shafts;
V-belt transmission, supports with mechanical seals and sealed ball bearings;
top brand gear reduction unit in a sealed oil sump;
split pin torque limitation device on the hub of the pulley;
stainless steel vertical outlet connection;
drainage hole positioned on the underside, with the possibility to install a Dn/60 tap (optional).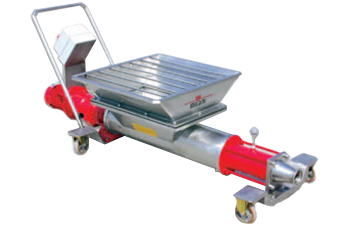 MONO PUMP – from 70 to 500 HL
Documentation
Get a quote
For grape without rasps
Pump made of stainless steel AISI 304 for de-stemmed grapes, complete with hopper with safety grille, rotating parts and feed screw stainless steel AISI 304, stator NBR rubber, semiraccordo Garolla DN80 (on request DIN 80), stainless steel trolley with wheels, panel with start / stop commands and control the temperature of the rotor. Thermal probe on the stator and temperature controller.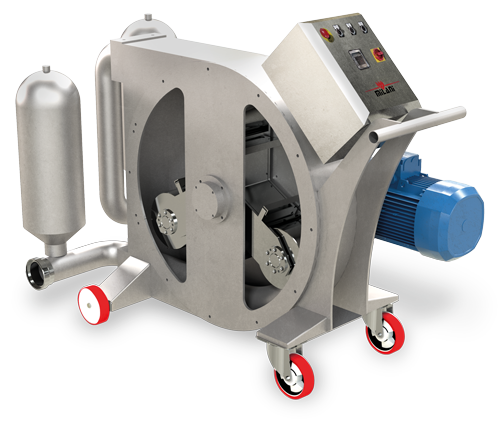 SELENE – PERISTALTIC PUMP
Documentation
Get a quote
System for a soft transport of liquids for chemical products, food and wine.
The pump is a careful and delicate transfer system, ideal for whole grapes, for grapes without the stalks, for marc and for liquids. Because of the insulation system, the product container in the pump is never in direct contact with the pumping apparatus and therefore it isnít subject to oxidation, contamination, shaking and emulsion processes; also grapes, grape seeds and grape stalks are neither crushed nor contaminated with harmful components.
The pratical applications for this kind of pump are endless, also because the special manifacture, the materials utilized, the technical devices employed and the peculiar working mechanism, guarantee the best performance.
TECHNICAL FEATURES
Operates in dry conditions;
in-depth auto-priming;
reversible flow;
only perished tubing needs replacing;
completely made with AISI 304 stainless steel;
complete of electrical panel.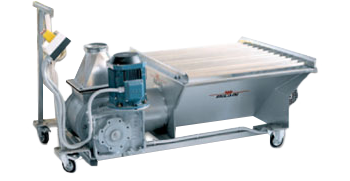 PATENTED VOLUMETRICA mod. "G6" with dosing hopper
Documentation
Get a quote
For the transfer od grapes and marc.
It acts by pressure and not by centrifugal force, assuring the best possible treatment of the pumped product preventing breakage of the grape stalks and crushing of the skins and grape seeds.
It's possible to provide with a stainless steel hopper, reclinable for reduced height, complete with protection grid for stainless steel auger.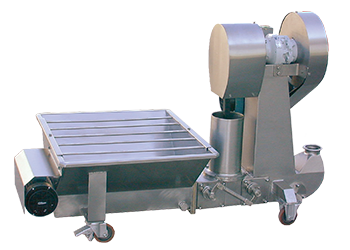 PISTON PUMP WITH FEEDING HOPPER
Documentation
Get a quote
Piston pump fitted with a top brand planetary reduction gear with conrod small end on oscillating roller bearings. Pump body made from extra thick Aisi 304 stainless steel, acting as a "water hammer" expansion tank.
Fully-openable blade valve in Aisi 304 stainless steel for total opening without constrictions, controlled by an external return spring. Aisi 304 stainless steel cylinder, smooth and polished throughout. Clamp-type, DN120 pump outlet connection; connection to drive unit support in Aisi 304 stainless steel.
Piston pump in self-tempering cast aluminum, equipped with three caps made from natural leather for sealing. The pump can be connected to a collection hopper made entirely from stainless steel and is provided with a 200 mm-diameter screw.
TECHNICAL FEATURES
Hourly production: 25 t – 60 t;
Motor power: appropriate;
Hopper motor power: 1.5 kW;
External finish: 2B;
15-20 m pump head, with Dn 120 piping recommended.