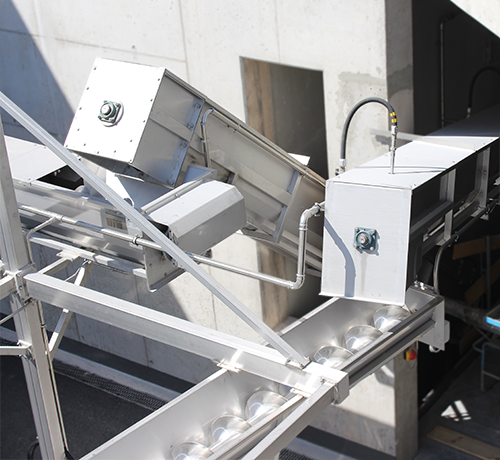 Screw Type Elevator Conveyor
Documentation
Get a quote
Screw-type elevator/conveyor with reinforcement frame made from 50x50mm stainless steel tubing, customized according to customer requirements. 2 mm-thick stainless steel sheet and 5 mm-thick stainless steel headboards
TECHNICAL FEATURES
Complete with appropriate safety protection.
Screw with central shaft
Top brand motor and reduction gear
Motor power: adequate
External finish: 2B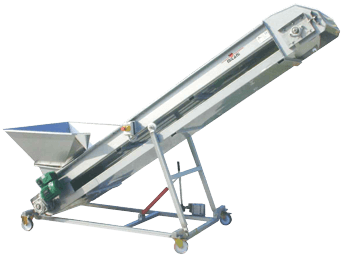 Elevator Conveyor Belt
Documentation
Get a quote
Elevator/Conveyor belt custom-designed and custom built from a superior shaped structure. It is made from Aisi 304 stainless steel sheet with side slits allowing for internal washing between the belts.
The inner side of the belt rests on a shaped surface, making it easier for it to move along. The drive roller is covered in rubber allowing for better traction on the belt. An easy-to-wash tray is positioned below the structure to collect the liquid produced. Scrapers clean the inside of the belt. Top brand drive unit.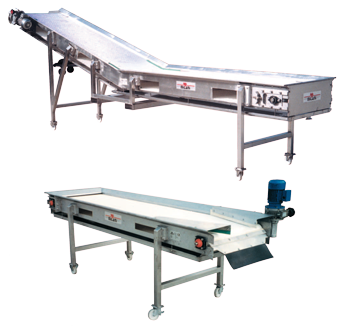 Vibrating Belt and sorting VIBRATING AND BELT SORTING TABLES
Documentation
Get a quote
Vibrating or pvc belt sorting table for the selection of whole or destemmed grapes. Entirely built in Aisi 304 stainless steel, it is equipped with a drainage grid to drain away any must.
TECHNICAL FEATURES
Support frame made from 4 mm thick stainless steel sheet and 40x80x2 mm stainless steel tubing;
Two 0.37 kW vibrators with the possibility to alter the table's vibration;
Assembled on wheels, making it easier to move around.