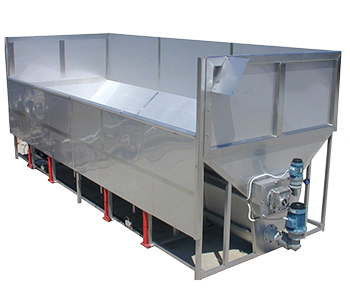 Screw Conveyor For Grapes
Documentation
Get a quote
The screw conveyor for grapes is totally made from thick stainless sheet steel and its stainless tubular steel supporting structure makes the hopper very strong during the grape unloading phase. It is built according to cellar requirements and can feature either a single or a double screw and a lateral or rear drain.
The basic characteristic of all the machines is that their screw has no intermediate support in order not to obstruct the movement of the grapes and avoid pressed grapes piling-up.
TECHNICAL FEATURES
The machine is EC approved as it has hydraulically-controlled mobile sides which are lowered during the unloading phase and then raised to a height of 1.10 metres above the ground.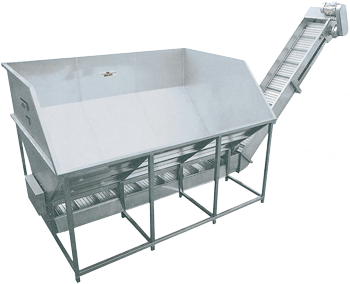 MERCURY
Grape bandconveyor
Documentation
Get a quote
In view of the ever-increasing need to eliminate screws from collecting vats in order to process grapes more delicately, we have designed and produced a new type of grape bandconveyorwhich offers excellent results both as regards the way the grapes are handled and the quality of the must produced from them.
This conveyor comprises a large feedbox (hopper) made from AISI 304 stainless steel at the bottom of which two revolving distributors are mounted instead of the usual screw. These rollers support the weight of the grapes and feed the band located underneath. The band is of the dripping type in order to allow the must to enter the discharge area and is made from stainless steel. It collects the grapes and conveys them to the outlet opening of the conveyor. The speeds of both the distributing rollers and the band can be varied depending on the amount of grapes that will be processed during the following phases.
TECHNICAL FEATURES
The machine does not crush the grapes at all but leaves them whole without losing any of the must.
This can be seen during the must decanting phase which takes place much more quickly than traditional screw-based systems.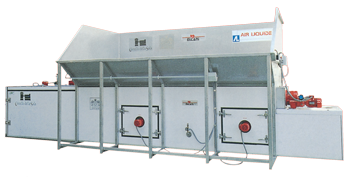 MERCURY–CRIENOL
Conveyor belt for grape
Documentation
Get a quote
Grape cooling from 10° to 15° continuously
The need to macerate grapes at controlled, preferably low temperatures, has become increasingly more important. To solve this problem, MILANI, MARCHESI ANTINORI and AIR LIQUIDE/SIO have designed, produced and patented MERCURY-CRIENOL, a conveyor belt with a built-in continuous grape cooling system which allows maceration to take place at various selectable and controllable temperatures, regardless of the initial temperature of the grapes.
TECHNICAL FEATURES
The hopper and frame are in stainless steel.
The dosing system comprises two rollers running along the length of the hopper bottom which constantly feed the underlying stainless steel belts located inside the cooling tunnel and appropriately insulated in olyurethane on the outside and internally lined in stainless steel.
The cryogenic fluid is injected into the tunnel through injectors and sprayed through special fans.
Large side doors allow rapid access for cleaning and maintenance.
Carbon dioxide is supplied in special containers by AIRLIQUID/SIO.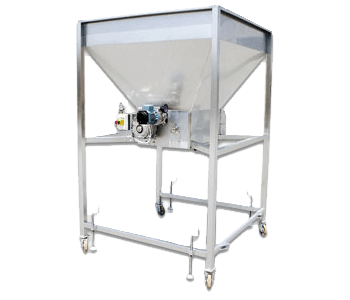 DOSING HOPPER
with sorting table
Documentation
Get a quote
The Dosing hopper has to be placed on to a sorting tables, belt conveyors or crusher-destemmer