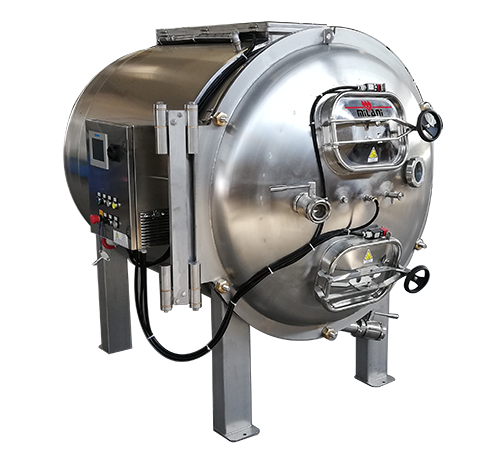 POLARIS Self – draining rotating steeping machine
Documentation
Get a quote
Working at 40°C
Polaris is a steeping machine that finally combines the most sophisticated technology with the traditional art of wine-making. Its control features, in fact, offer certain and immediate advantages. Polaris ensures the liquid part remains in constant contact with the solid parts using the "submerged cap" system and, thanks to the rotating cage, it controls the passing of the must over the grape dregs in order to accelerate the extraction of colour and substance from the skins. A lower number of rotations and less time are therefore required to obtain intense and aromatic wines.
TECHNICAL SPECIFICATIONS
Polaris is easy to use, safe because it has no accessible moving parts, easy to wash and guarantees simple and effective wine-making;
Made from stainless steel in order not to passivate, Polaris is versatile, complete and available in capacities ranging from 70 to 500 hectolitres.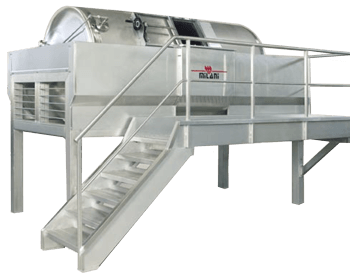 OMEGA Heatable self-discharging horizontal macerator
Documentation
Get a quote
Working at 100°C
Heatable self-discharging horizontal macerator designed to heat contents to 100°C thanks to two interior electrical heating elements. The high-performance shell insulation minimizes heat loss. The solid and liquid products are loaded through a hatch at the top.The automatic rotation of the cylindrical tank around its axis enables the interior scroll to mix the contents, speeding up the diffusion processes between the solid and liquid portions.
When the maceration process is completed, the liquid content is drained off through a ball valve while the solid matter is discharged automatically by making the tank rotate with the hatch open.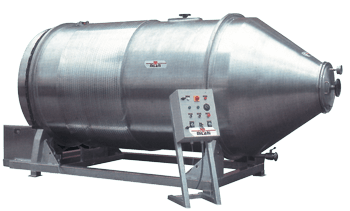 REVOLVING SELF-EMPTYING WINE MAKER
Documentation
Get a quote
This revoling self-emptying wine maker has been designed to enhance the characteristics of the various types of grape mixtures and therefore to improve the quality of the wine, bringing out the bouquet and colour.
TECHNICAL SPECIFICATIONS
Revolving tank made entirely of AISI 304 stainless steel apart from the rings resting on the sliding wheels; the scaled hatches for filling and emptying are fitted onto the tank;
Completely detachable internal drainage channels for quick and efficient drawing without loss of the marc;
Dual-function internal screw fitted tot he wall reaching as far as the conical part for total discharge of mixing of the marc depending on the work phase selected;
Three safety valves for the fermentation gases;
Cooling pocket located on the external housing;
Self-braking motor reducer with speed variator to vary the revolutions of the wine maker;
Electrical control box for the various work cycles.